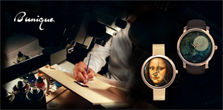 create your own - B unique
Being the first and only art watch in Dubai. B Unique is the trend. Now launching a very interactive way on creating your B Unique watch, it's just getting more exciting. From selecting the Art Design to selecting the strap... you can do limitless!
A Unique watch Just For You
This is your chance in creating your personalized B Unique watch of B360.
Be one of a kind!
B Unique is the first and only Art watch launched in Dubai with real hand-painting design; it gives you the feel of elegance and being special.